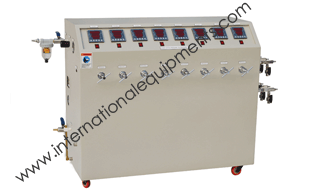 as per IS 4984 and IS 4985 to check the creep rupture of pipe when subjected to internal pressure under a specified condition.
Pressure range : 0 – 100 bar*.
No. of stations : 8 nos.
Pressure input : Through compressed air having pressure upto 5 kg/cm.sq
Pressure output: through hydro-pneumatic pump.
Time range : 0 – 999.9 hours.
Panel mounting : Trolley with castor wheels.
Paint : Powder coated.
Power : 230 Volts, 50Hz, single phase.


Direct display through MMI :
Set pressure, Actual pressure, Set time, Actual time, Set temperature and Actual temperature.
Graphic display and printout through PC :
In addition to the above values Pressure & Temperature Vs Time graph could be obtained for any station by attaching a printer to the PC.

---